I receive a considerable amount of emails and searches on our blog regarding evictions every week and quite often, it is the same or very similar questions. Here is a list of my top five eviction questions to help you out.
1) Alberta Eviction Question One – Can a tenant be evicted in the winter in Alberta?
a. It's cold outside, the weather can be frightful, but yes if a tenant doesn't pay their rent or causes a serious breach of the rental agreement they can be evicted. The tenant and the landlord have a contract that both sides have to uphold and is regulated under the Residential Tenancies Act of Alberta.
2) Alberta Eviction Question Two – Can a landlord cut-off utilities to make a tenant leave?
a. Absolutely not, if the landlord shuts off heat, water or any other utility that he is responsible for paying they can be fined and find themselves in a very bad spot. The secondary question that comes with this is no, you cannot take the front door away for repair either, nor can you change the locks on the tenant without going through the proper procedures.
3) Alberta Eviction Question Three – How expensive is it to evict a tenant?
a. If you go through the Residential Tenancy Dispute Resolution Service (RTDRS) there is a $75 filing fee to have a hearing. If the hearing officer decides in your favour, the tenant is responsible for paying you the $75. Unfortunately collecting the outstanding $75 can be much harder than winning the hearing. If you win the hearing and the tenant still does not vacate it can cost you another $400 to hire a bailiff and have the tenant removed.
b. There are also full service eviction companies that will charge you from $600 to $1,000 and up for the service and depending on how much additional work is required the fee will continue to increase.
4) Alberta Eviction Question Four – Do I need a bailiff to evict a tenant?
a. For most evictions, you can complete the entire process yourself through the RTDRS and may not require a bailiff. The only time during the eviction process that you absolutely require the bailiff is if the tenants receive an order from eviction and do not vacate the premises. At this point, you require a bailiff to serve the tenant(s) with the writ of possession which gives you your property back and allow you to legally change the locks and allow the police to charge the tenants with trespassing if they return.
5) Alberta Eviction Question Five – What is the fastest way to evict a tenant?
a. Each circumstance is different, but generally, the quickest method is to file immediately with the RTDRS and get a hearing date. This will be the quickest sure fire method to evict a tenant. You can provide a 14 day eviction notice to a tenant, and then if it appears they will not be vacating you can file at RTDRS, but it will add an additional week or more to the process.
b. In the case of a tenant causing serious damage to the property or threatening the landlord or other tenants, you can provide them with a 24 hour eviction notice. Once again, if they do not vacate you still have to file with the RTDRS and go through the process.
Hopefully these provide you with some answers that help you move forward, either as a landlord or as a tenant. As a bonus, here is one additional eviction question.
Alberta Eviction Bonus Question – How long does an eviction take?
If you follow the systems we recommend (including properly screening tenants), a landlord can have their property back and the tenants evicted in approximately 15 days. Depending on the circumstances, the hearing officer may allow the tenant to stay on and make additional payments to catch up outstanding rent on a set schedule. If they miss any of the payments on this set schedule, you can take your property back within a few days.
If you are a landlord and found this site while you were searching for eviction help you definitely want to check out our main eviction site
You'll find dozens of articles about evictions that can answer many questions landlords or tenants have. Over 1,000 comments on the sites with questions asked by people in situations likely very similar to what brought you here. And I even offer consulting and guides if you need help moving to the next step.
You can register there below and start getting information about the eviction process right away. Just click the link below or go directly to the site by clicking the link above to look around.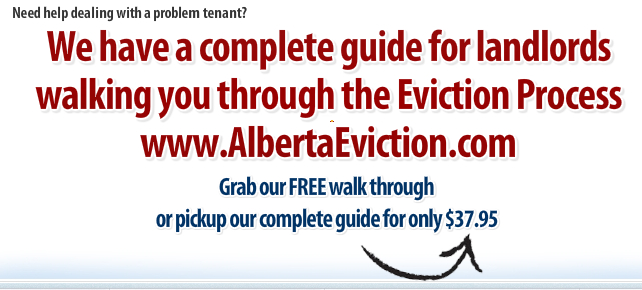 I rarely check comments on this site so I have disabled them.
If you need assistance or have questions please visit www.AlbertaEviction.com
Here is some more additional eviction articles for you;
The Eviction Process – an Extended Walkthrough of an Eviction
Police Tactical Visiting is a Great Reason To Evict!
Landlord Tips – Filling Vacancies and Saving Headaches!