Cost Effective Rental Renos With a Big Payback
There's something about a nice fresh coat of paint. It can help revitalize a property after just a few hours and yet, it's something many landlords just don't do often enough.
The problem is, we become used to the flaws in our rental properties and often don't see the little defects that exist or we rationalize them as character. That dent in the wall is where little Johnny's skateboard stopped, after it went careening down the stairs. Or the scratches are from the tenant's dog, Lucky, standing up against the wall when she's trying to peer out the front window.
Too often, we just default to "It's just a rental". This type of attitude can not only make your job harder when it comes to filling vacancies, but it also can cost you money as it takes longer to get tenants in and often ends up with lower rents.
The problem being, potential tenants looking to rent your property see the defects as flaws in the property. The skateboard dent is a damaged wall. The scratches under the window are neglect of the property and indicators there may be more problems they cannot see.
This is what you, as the owner, have to start recognizing before you list or rent your property. Whether it's hiring professional painters to come in and do the work for you, bringing in a handyman or whether you need to dedicate the necessary time to get the job done yourself, you have to make this a priority if you want to rent your property quickly. A new coat of paint really can make a world of difference to a potential tenants first impression.
Once you have decided to take action and paint, and whether you are contracting out or doing the work yourself, your next challenge is choosing your paint colour. The proper paint colour can made a huge difference when it comes to the first impression of a property and this is where the obligatory warning about colours comes in.
Renter white is not a colour for your rental properties walls. It makes a great accent colour, but as a primary paint colour its turns a property into an institutional, cold bleak environment, which drives the majority of interested parties away. It should also go without saying fluorescent or extra bright colours should also be avoided. They may be cute in the eyes of a 12 year old, but they will put off prospects hoping to use the room for an office. You need generic neutral colours that are suitable for anyone.
To help you choose a proper colour, there are several places to find assistance. A good paint store can be extremely helpful in assisting you in finding some nice neutral contemporary colours for your property, so be sure to ask for assistance. If you are hiring contractors to paint, they can often be of assistance as well.
Or if you want to take it to the next level, you can also bring in an interior designer for a colour consultation. This would be more advisable if you are doing a complete repaint of the property, but is often well worth it. An experienced designer can help you choose colours that complement the home and help highlight its best features.
Whichever route you choose, paint can be a great start for you to update and renovate your property to the next level. So before you list or rent your property, take a close look at those walls and think about how some fresh paint will help improve the look.
Real Estate Investor Hot Tip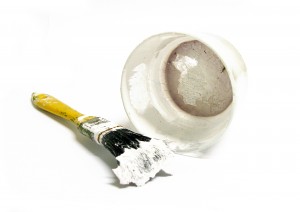 We use the same colour in all of our rental properties. We order it from the same place every time and we buy it in five gallon buckets. This gives us a consistent tint, saves us a few dollars by purchasing larger sizes and we never have to wonder what colour the property was painted.
It makes it easier and simpler to patch minor damages and when it comes to repainting an entire property, we often have to only do one coat. This saves more time, more money and gets the property back on the market faster. Win, win, win.